Neena Von Grunheide
Viza Z Pohranicni Straze x Kroc vom Haus Katernberg
---
November 15, 2013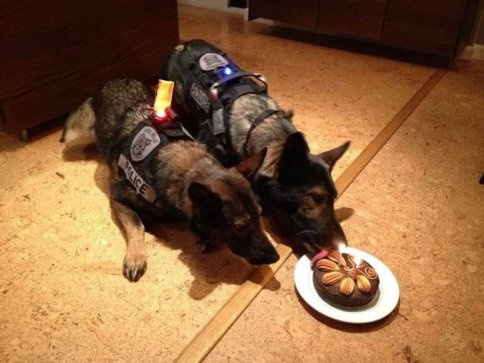 Seattle police pooches celebrate sixth birthday.
November 3, 2013
PSD Ziva
offers ride along as prize at
Seattle Animal Shelter Foundation
auction.
July 2013
Seattle police dog Ziva has her very own trading card!
July 2013
July 2013
Police: Naked man breaks into home, asks to 'crash' there
July 2013
Reckless Driver Gets Fairy Tale Ending After Fleeing Into North Seattle Cemetery
May 2013
Ziva attends the WSPCA Spring Seminar in Bellingham, WA. (Photos by "Charity:Images")
March 19, 2013
The Seattle Police Department participated in obedience and police training at the Seattle Kennel Club Dog Show at Qwest Events Center. Shown here are Mark Wong and Police Dog Ziva.



Photo by Joshua Lewis



Photo by Joshua Lewis



Photos by Diane Rich

---
August 7, 2012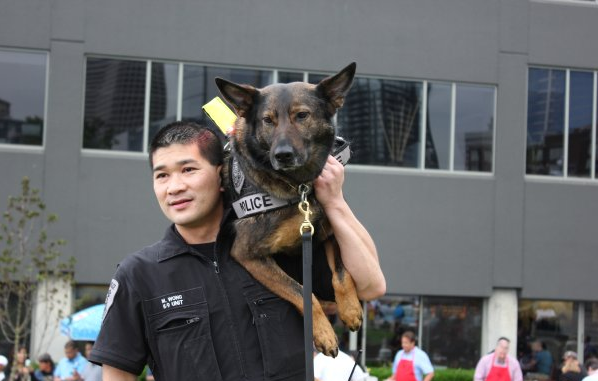 Ziva participates in Night Out to raise crime awareness

May 8, 2012
Ziva finds gun.

March 12, 2012
Ziva and Officer Mark Wong attend the Seattle Kennel Club Dog Show.
March 2, 2012
December 24, 2011
November 3, 2011


Left to right: Seattle Mayor Mike McGinn, Officer M Wong, Police Dog Ziva, Officer Chris Hairston and Chief of Seattle Police John Diaz.

October 29, 2011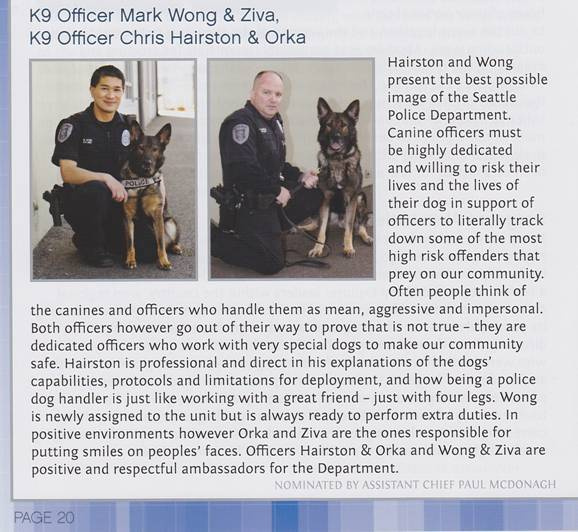 Congratulations to Officer Chris Hairston and Orka and Officer Mark Wong and Ziva who were 2010 recipients of the "Community Ambassador" award at the Seattle Police Annual awards!
---
August 13, 2011
"Stand with Those Who Serve"
WSCJTC Academy, Burien WA
Seattle PD Ziva (aka Neena Von Grünheide) with Officer Mark Wong and Renton PD Fedor with Handler Cassidy Steed
---
August 3, 2011


About Canine Units in Seattle (seattle.gov)
---
May 2, 2011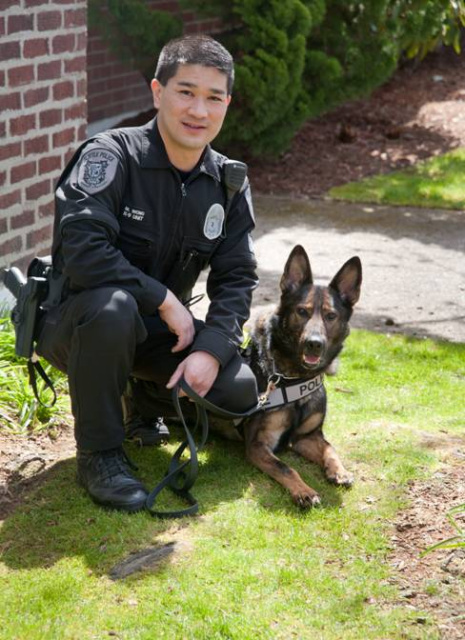 ---
March 2011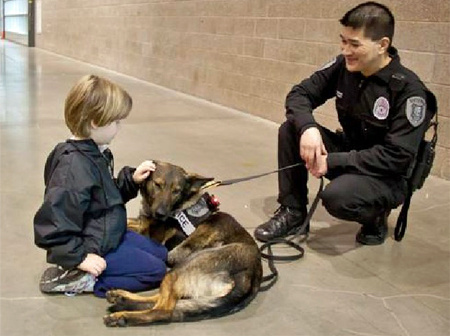 (Photos by www.davidweltonphoto.com taken at the Seattle Kennel Club show on 3/12/11)
Ziva being a good dog ambassador made a new friend, whose mom said she was a bit scared of dogs!!

---
February 2011
Congratulations to Mark and Ziva for passing the WSPCA standards and becoming the first successful female police dog in the 40 year history of the Seattle Police K9 Unit!!!!!!!

Neena was raised by Deputy Jim Gibson (of the Snohomish County Sheriff's Office) and his family for the Police Dog breeding program and is now K9 "Ziva" with the Seattle Police Department.
---
December 14, 2010
---
August 18, 2010


Kroc with two of his latest police progeny!
Officer Rory Smith and K9 Jaeger and Officer Mark Wong and K9 Ziva (aka Neena)