Taz-ahni Von Grünheide
May 2013
I just wanted to let you know that our dear Ahni--who wants nothing more than to play with any human or dog she meets--thwarted an attempted burglary at our house today. Fortunately her bark (and probably the sight of her) was a sufficient deterrent and she wasn't hurt or even phased by the event in any way. So, in addition to delighting us with her antics and endearing us to her, she is doing her job and doing it well.
---
Sisko Von Grünheide
---
Enya (aka Raven) Von Grünheide
She has earned her new name since she has camped alone with me on many occasions, and, most importantly, she has fallen in to great relationships with ALL of the other "pack" members including my cat!!! The picture of Raven and my cat walking is the two of them going on "a hunt" for mice together! Raven is becoming muscle from head to toe. Her favorite food on a hot summer day is watermelon. She lives for raw carrots and apples! I cannot thank you enough for her. She is perfect! Enjoy.I just had to share!
Linda, Wallace Idaho
---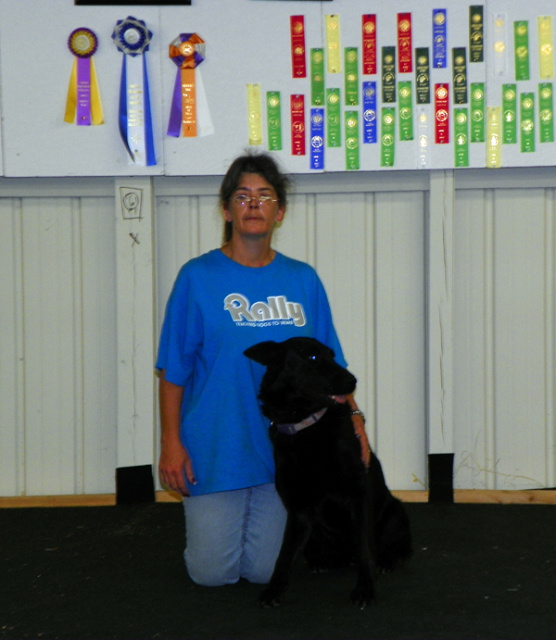 Hi Suzanne, Here is a picture of Diane and Alfa with their ribbon earnings before they had to take a break because of my surgery. Alfa is super dog, Diane is going to start working on her OTCH again. During the year they went to dog trials Alfa earned 11 titles in AKC and UKC, the majority of them were 1st place. We cannot thank you enough for getting Alfa for us.
Diane and Dannie Fincher
AL
---
Cara von Grünheide
Just wanted to drop you a line and let you know Cara is doing fantastic! She is a great dog we couldnt be happier. She hikes up in the mountains with us a great deal ( I think she is part mountain goat) and has been working hard on her tracking and obedience. What I find really amazing is her agility ..wow. Anyhow hope, you and all your puppies are doing well. Have a great summer.
---
Isis von Grünheide
Today is Isis's one year birthday, I took this photo of her this past weekend. She is doing great, still very keen, devoted, and loves our girls. Isis has grown to be about 90 lbs., healthy, and an excellent family dog/guard dog. Anytime someone comes around our girls or the house they are made aware of our little pup. She has come along way since we got her from you this past year. We are possibly taking a transfer to the North West Territories this summer, Isis is going to love the snow!
Thank you again for everything Suzanne!
---
G'Kuma von Grünheide
Suzanne,
We got Kuma from your
G litter
and have been wanting to send you an update on how she is doing for a while now. She is a fantastic dog; we couldn't be happier with her! She is now 3 years old , has her Canine Good Citizen and recently passed the Delta Therapy dog test. I am planning on volunteering at Children's hospital since she is so absolutely great with children. We have also started agility, which we both enjoy. But most important of all, she is the best family dog we could ask for. My two boys (4 and 2) adore her. On top of it, she is stunningly beautiful and smart - she learned to open the latch on the gate with her snout at a very young age...(we quickly installed locks!) I'm sending you a separate email with an album of random pictures of her over these 3 years.
Anyway, I hope that this email finds you well!
Gure Garmendia
---
"Dear Suzanne,
She is cute as a button and lots of fun, we will enjoy her for many years to come!"
-- Bettie Smith, Maple Ridge BC, Canada.
Bettie is an 87 year old Dog trainer at heart, enjoying her 2nd Grünheide Shepherd "Gabby" aka "
Nabber Von Grünheide
" . Gabby has big paws to fill, as Dannie Von Grünheide was Bettie's pal until she was 15 years old! (Lexy von Bullinger x Olsen v. Leipheimer Moor) Gabby and Bettie love to walk together in Golden Ears Provincial Park, British Columbia. See
N litter
for Nabber's littermates
Neena
and
N'Jaeger
, both Seattle Police Dogs!
---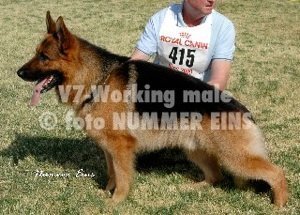 ICE
Son of VA Eiko vom Haus Hazelda
Duel AKC and CKC registered
3 x Schutzhund 3
DOB Oct 17, 2005
I won the Canadian Natioal Siegerin with his maternal grand mother "Lexy" in 1996. He was V7 at the 2009 USA German Sieger show and won a trophy for his man work. Ice will be living in Ecuador where he will serve as an estate protection dog and be spoiled by his family.
---

Yukon Denali von Grüneheide
Lucy Von Grünheide X Cento Z Pohranicni Straze

Denali is the very active four legged child belonging to Lee and Karlena Pierce of Edmonds, WA.  In the Winter he enjoys snowmobiling with his owners, and yes, he'll actually hop up for a ride when he's tired.  In the summer he enjoys diving off the boat in the middle of the lake (with life jacket of course!) to fetch is favorite water toy.
---
Rykr von Grunheide
Axinus von den Bosen Eichen SchH1 x Ava vom Blatzheimer Feld SchH1

Dr. Michael L. Harrington DVM, MS, DACVIM (Neurology) and Mr. Ryker BBD, GSH, SP (Big black dog, great sense of humour, super pal). Ryker enjoys to travel with Dad to his appointments in the Puget Sound area. Dr. Harrington and Ryker love to find new adventures together and both share a great sense of humour! To learn more about Doctor Harrington, please visit: Animal Neurosurgery and Neurology www.veterinaryneurosurgery.com
---
Josi and Buddy Ward
Josi and Captain Buddy Ward Lexy von Bullinger X Hillo de Marne La Vallee (J litter von Grünheide) and Lucy von Grunheide x Dyce von Grünheide (C litter Von Grünheide).  Buddy just earned his "Canine good Citizen!"

Loved and spoiled by Ken and Judy Ward of Monroe Washington.
Buddy and I entered our first ever event yesterday at the German Shepherd show in
Renton
—we got a qualifying score (84) in Rally Novice A!  Very exciting for us.  We are still taking agility classes, Buddy loves it—if only his owner were more athletic...we do have fun with it.  Josi is doing great, she is still a noisy sweetheart—doesn't know she is 11 years old already!
Just wanted to share our news,
---
Lucy Von Grünheide X Cento Z Pohranicni Straze

&
Danner Von Grünheide
Viza Z Pohranicni Straze X Dyce Von Grunheide
---


Kevin is serving as a companion and commercial property protection dog for a large construction company in British Columbia.