Training Testimonials



At the recommendation of past clients, we have started a testimonials page, we would be grateful for yours if you have one!

---

Just wanted to drop you a line and give you a quick update on the girls. We went camping up at Deception Pass St Park this weekend and they were off leash the entire time. It was the best time we've ever had with dogs!! Walked the beach and hiked thru the woods all while keeping complete control over them. Passed by people and they immediately got in heel position. It was fabulous. I've never had a dog that I could recall every time without fail. These collars are were worth every cent! Thanks again for the training!

Rosie O'Hearn
---
I can't thank you enough for everything you and your trainers at Von Grunheide Shepherds have done for me. You imported a remarkable pup! Kane has all the characteristics GSDs are bred for: his conformation is excellent; he's smart, fearless, high drive and a loyal companion.

I'm embarrassed to think of the mistakes I made in Kane's early training! Your support and expertise has made all the difference. A week of "board and train" at Von Grunheide transformed Kane from an unruly adolescent into a more obedient pup willing to accept direction. In our private lessons you've demonstrated a balanced approach to training and you've given me a set of specific skills that have been effective in managing Kane. What I have especially appreciated is that you've tailored training plans to fit my needs as a petite woman with a lean 100 lb. dog!

Kane is maturing nicely but we have a ways to go. I look forward to continuing our training at Von Gruinheide. You're the best! Thanks again.




Nancy Thompson
---
Jessica's class was great!
Her training methods taught us how to give our 10 week old German Shepherd, Red, the obedience foundation she needed. The ability to interact with the other pups and older dogs in a controlled environment, was essential in teaching us how to teach Red proper social skills and play etiquette.

The handouts were helpful and homework was fun!

It was touching to see ll the pups interact and play with each other.



John & Laura, Camano Island
---
G.I. Joe Von Grunheide graduates puppy K!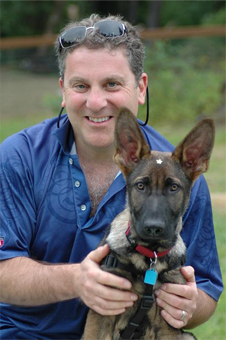 When we first got our dog, "G.I. Joe Von Grunheide", it was love at first lick. But after spending the first week at home, our love soon turned to frustration. Little Joe was out of control, wouldn't listen to us and just plain ran us ragged. We were questioning our ability to keep him. We needed help! Suzanne recommended that we enroll Joe in her new puppy kindergarten class taught by Jessica Severson.

Right from the first class Jessica taught us things that made a huge difference. She educated us about the value of praise over negative corrections and showed us how to be consistent when we did make a correction. It was as if we took home a totally different dog after the first class! Joe was calmer and we were calmer. We were amazed. This was no Pet-Store training class (which we have taken before).

As much as the class was useful in training Joe, Jessica's sincerity and patience made each of us much better "parents" and role models for Joe. Jessica has an amazing ability to understand the nuances of Joe's behavior, body language and interactions and even more importantly, translate them into simple concepts that we can understand and use. Jessica was also very supportive of our personal emotional needs, especially understanding our frustration and concerns as we were learning.

After the 6 lessons, we now have a wonderful puppy and family member ready for Jessica's next class. We can't thank her and Suzanne enough.

Howard M, Redmond, WA
---