SchH 1 KKL1 HD a1 ED normal
ZW 79
Pedigree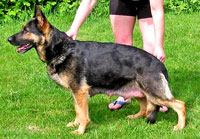 Iska is from the renowned Karthago kennel, famous for producing top quality working dogs. She has an absolutely TOP working line pedigree is and line bred Assie Kleinen Pfahl (5-)-, Anderl kleinen Pfahl (-5)*. The only reason I was lucky to obtain Iska was because Mr. Kemmer had decided at the age of 70 to downsize.
Iska is an absolutely beautiful working female. She has a strong head, correct structure and a lovely free character. Her food drive is over the top and her retrieve/ball drive is excellent. Her temperament could not be more solid. Her attention to the handler is phenomenal, she loves to work for you. I could not have asked for a better female for my breeding program. I look forward to her producing great working dogs.
Iska's Koer report: Above medium size, medium built, substantial, with lots of depth of body, well pigmented, strong head with a lot of expression. well positioned croup which could be slightly longer, well angulated forehand and very well angulated hind quarters. Straight front, straight stepping behind, wide stepping in front as elbows are not completely close (to body), far reaching ground covering gaits with effective push from rear and free reach in front. TSB pronounced.