SchH 1 KKL1
OFA- Good hips Normal elbows
Progeny






Grizwold Von Grunheide is an up and coming young male by Axinus Von Den Bosen Eichen SchH1 STP 2 PSD KKL2 out of Iska Von Karthago SchH 1 KKL1


December 13, 2012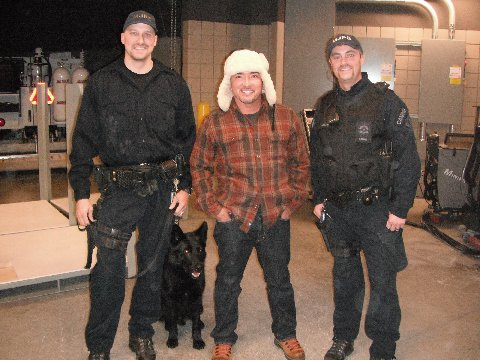 Grizwold Von Grunheide meets Cesar Milan! Cesar travelled to MooseJaw Saskatchewan and met Grizwold and his handler Chad Scheske. Griz even got to bite Cesar on stage. Cesar is definitely dressed for the weather!

November 12, 2012



Constable Chad Scheske and PSD Grizwold von Grunheide Moose Jaw Police Service, SK Canada.Chad's PSD has to have surgery, so Griz gets to catch some bad guys for him for a while! Happy times for any dog! Happy hunting boys!




April 3, 2011

Griwold Von Grunheide obtains his Koer Klasse 1, and a prestigious V show rating! Thank you to Mary Shields and SV judge Ernst Seifert!!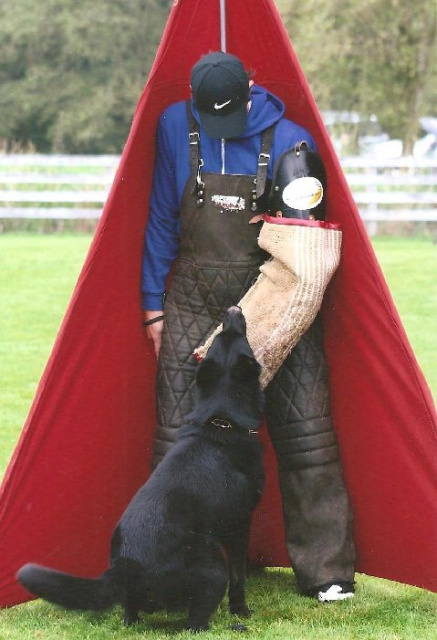 Grizwold's lines include award winning police service dogs. His sire placed 13th in the 2002 Canadian Police Dog Nationals and 5th overall at the 2005 Police Dog Nationals, winning first place in the Criminal Compound Search. His full brother with the RCMP Snyper (AKA Buddy Von Grunheide) (same breeding 2 years older) won the Pan Am Police and Fire Games combined as the Canadian National Police Dog Championship in 2008 as well as the silver medal for explosives in 2009 at the World Police and Fire Games. His half brother placed 3rd overall for Patrol at the 2009 Police and Fire Games.



His sister is in training for narcotics work, and many of his relations are working in various jobs as pets, Search and Rescue, Schutzhund as well.
Grizwold exemplifies the goals of these purposefully bred lines: stamina, health, athleticism, biddability, power, speed and sound temperament.