Dog Client Testimonials
---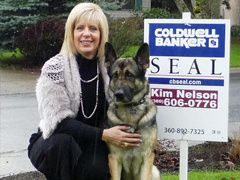 Dear Suzanne, After several years of researching protection dogs, my husband and I feel very blessed to have been put in touch with you. During our research, we became frustrated because so many "professional" dog breeders/trainers wanted to sell us over priced dogs, "Rambo" dogs or dogs that lacked proper breeding and training. After talking with you, it was clear you are set apart from others selling German Shepherds. Your knowledge, professionalism and understanding of our needs was clear immediately. You also stressed the need for our patience in order for you to find us the ideal German Shepherd, which you did. "Diesel" is now my work partner and also a wonderful addition to our family. He is fabulously confident, clear minded and extremely loyal!
As a real estate broker, I am often unaware of what I will be walking into or whom I will be meeting. With Diesel at my side, I am no longer concerned entering vacant homes or meeting a new client. He is extremely competent searching vacant homes and thoroughly capable of contending with an aggressor, if needed.
At home, Diesel is part of the family. He is fun loving, open to adventures but always maintains a loyal and watchful eye. Although Diesel is "my" dog, he has bonded well with everyone in our family, including our older female shepherd.
Suzanne, we think of you often and thank you so very much for pairing us with our new family member. Your professionalism and knowledge of German Shepherds is unsurpassed. Any of your clients should feel confident trusting you to fit a dog to their needs. You are simply the best!
Mike and Kim Nelson and family
---

G'Kuma von Grunheide

We got Kuma from your G litter and have been wanting to send you an update on how she is doing for a while now. She is a fantastic dog; we couldn't be happier with her! She is now 3 years old , has her Canine Good Citizen and recently passed the Delta Therapy dog test. I am planning on volunteering at Children's hospital since she is so absolutely great with children. We have also started agility, which we both enjoy. But most important of all, she is the best family dog we could ask for. My two boys (4 and 2) adore her. On top of it, she is stunningly beautiful and smart - she learned to open the latch on the gate with her snout at a very young age...(we quickly installed locks!) I'm sending you a separate email with an album of random pictures of her over these 3 years.


Gure Garmendia
---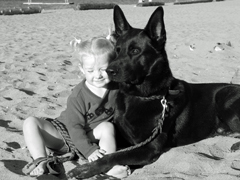 As a competitive dog training enthusiast, professional pet dog trainer and mother to a family with small children, I demand a lot from my dogs: competition team members, business partners and, most importantly, family companions. My dogs have to do many jobs and to do these jobs successfully they must have temperament, health and work ethic. Whether wading into a school yard filled with children, getting a perfect score in rally, or assisting with a client's aggressive dog, my Von Grunheide Shepherds have been a treasure to own, train and work. Suzanne Eviston's attention to health and temperament and her ethics as a breeder stand out for me and it's why I go to her for my dogs. Each one of her dogs reminds me why I am so passionate about this breed, and the joy her dogs have given me over the years cannot be measured. In her breeding ideals, I have found my perfect German Shepherd Dogs - I can't imagine my life without them - Saint von Grunheide CDX and Mila von Grunheide RN (with titles still to come!)

Zen Dog Training

Shannon Malmberg of Zen Dog Training in Vancouver, BC
---
I greatly admire Suzanne Eviston in all respects. She is a talented trainer/handler and is honest, ethical, and knowledgeable. She has a fine eye for evaluating puppies in order to identify the "right" puppy to mesh with personalities and lifestyles of those seeking a German Shepherd for the diverse roles these dogs fulfill.

I fell in love with my first German Shepherd dog in 1964 and have been "hooked" ever since. Our Shauna was an exceptional obedience dog who finished her UD in 9 straight trials, consistently earning high scores including a 200. In the years since then I have continued training and titling GSDs, and also did some breeding in the 70's.

My life now is shared with Xoe von Grunheide, age seven, one of the notable Cento/Lucy progeny who are well represented in varied roles including law enforcement, obedience and SchH competition, and beloved family members. Xoe is a vivacious, athletic, high-energy girl who is a joy to train, to hike with, and to live with. After completion at age four of the AKC obedience titles we had set out to achieve (CD, CDX, UD, RN, RA, RE) came the thrill a year later of receiving high praise from the judges as she passed her AKC tracking test and earned her TD title. Whereas she (of course!) already knew how to track, this was a new venue for me, so it has been an adventure for us to learn this fascinating work together. We hope to achieve one of AKC's advanced tracking titles, the TDX.

I am privileged to have met many other fine German Shepherd dogs of Suzanne's breeding who bring daily joy to their owners as obedience sports dogs and family dogs. I highly recommend Von Grunheide Shepherds for German Shepherds from working lines who are sound physically and mentally and eager to share your lives.

Freda Sprietsma
---
Here are some pictures of Cara. She's 13 months old and is great. The pictures of her and James were taken when she was about 6-7 months old. She's an incredibly smart dog, and very very sneaky. She loves everyone and is not dog agressive at all, that is until another dog wants a piece of her. Her tracking is pretty good, and her article searching is fantastic. Her obedience is really good and she will Platz, stay, and sit until she is given the command to break. Her recall to the front and fuss is good, just need a little fine tuning. All in all she is great, she lives in the house with us and is a complete bed hog. She has a run in the back yard but only has to spend 2-3 days in it every two weeks with our schedule. We took her all over British Columbia for a three week trip and she was great, very easy to travel with. We do a lot of hiking in the mountains and she never goes more than 75 yards without waiting for us She's about 70 lbs right now and starting to fill out a bit. She's very long and lean. We may be considering another dog to give her a buddy.

Michelle Robertson
---
November 2012
I took these pics of Emmit (Pascal Von Grunheide) on his first birthday yesterday and thought I would send them to you. It is at a farm we are trying to buy. He is doing great and we couldn't be happier with him.

We did a full session of training at Packworks. Going with a young pup was a perfect start for us and our girls because this is a much different temperament than we have ever had before in a dog.

Thanks for your expertise in choosing such a good pup for us. Gretchen has remarked several times about the great balance of drives he has for the work and home we provide him. I am not totally sure I fully understand what that means but I know it means he is a food fit for us so thank you.





Inger Owen
---