ZVV1 SchH1 KKL 2 hips 0/0
Progeny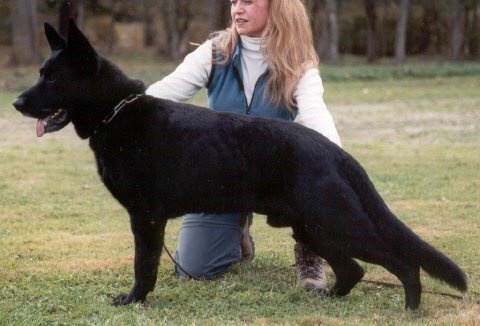 Cento was imported from the Czech Republic, born from the famous Czech Border Army Kennel "Pohranicni Straze." He is a Large Boned, solid black dog with an impressively substantial head. Cento's Sire "Chuligan Z Pohranicni Straze" was a famous producer and was also imported to America. Cento's great grandfather is Titus Z Pohranicni Straze. He was one of the most recognized stud dogs of all time. He produced some of the hardest working border patrol dogs in Czech and Slovak history. He was extensively used in the Z Pohranicni Straze and Policia (Czech Police) Kennel breeding programs.
Like his forefathers, Cento is also producing super police working dogs, obedience dogs, and family companion dogs. Cento consistantly produces excellent structure, type, bone and beautiful large heads. In work, he bites hard and full, and has excellent food and toy drive. He is a solid tempered, clear headed dog that is social and is balanced in his drives.
True to his ancestory, he has been a real asset to my Police Dog Program.